Tip of the Month: Eat Your Apple Peel!
Apples are a standout food for health protection and we can thank their peels for most of their disease-busting prowess. Apple peels are rich in insoluble fiber that aids in appetite control and feeds the good bacteria in our colons. But what really sets the peel apart from its fleshy component is its stunning array of beneficial polyphenol compounds. Apple peels provide one of the most comprehensive varieties of polyphenols of any fruit and are uniquely high in the oh-so-powerful anti-inflammatory polyphenol, quercetin. Whether your goals are weight control, cancer-protection, or heart health – apples with the peel are a winning food.
Because conventional apples are typically high in pesticides, opt for organic apples as the healthiest choice.
For more expert advice to achieve optimal health, order your own copies of Dr. Ann's Eat Right for Life books. Buy the combo and we'll send you a FREE Dr. Ann Grocery Guide so you can know exactly what to put in your grocery cart.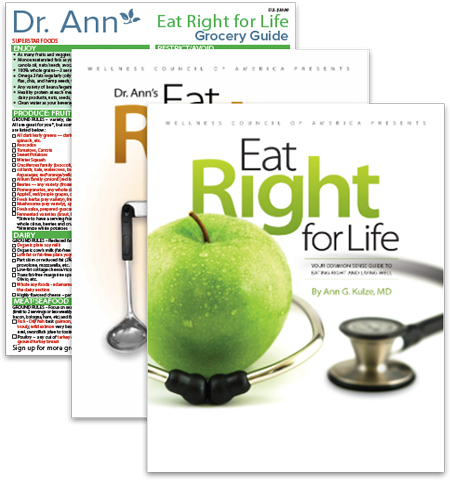 Looking for a personalized wellness consultation?
Meet with Dr. Ann one-on-one.
Schedule your in-person or online appointment today.